Oak-aged sour
Bourbon barrel aged saison brettanomyces 7.0%
| | | |
| --- | --- | --- |
| | Oak-aged sour | Bourbon barrel aged saison brettanomyces 7.0% |
Specialty malted barley, unmalted wheat, spelt, hops
Vintages: 2018
Tasting Notes:
"Warming citrus nose, aromas of damp oak, lemon rind and wet hay. Golden straw hue with tastes of bright citrus fruit, tangerine, apricot, melon and honey. Crisp, creamy and earthy with moderate tartness and acidity, finishing with a smooth rustic dry linger."
Cellar Notes:
Ale brewed with Propolis Microbes & Wild Yeast and Micro-Organisms, age +4 yrs
Food Pairings:
Roasted Chicken, BBQ ribs, robust stews, game, sweet potatoes fries, butternut squash soap, aged gouda, trout, halibut
Recognition:
GABF bronze medal 2016 - Wood and barrel aged sour beer
Purchase:
We are not currently selling bottles in our shop... look for it locally on our
ale locator page!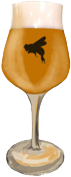 Draft

375 ml cork finish